Dear locals,
If you are indecisive when it comes to deciding where to eat, and what to order, let me choose for you. Trust me when I say you'll want to fill your belly with the mouthwatering options from Forage Public House. You've gotta eat here! Forage is committed to serving sustainable American fare with vegan friendly courses. A menu so tantalizing even I struggled making my selection. With an abundance of appetizing starters, delicious entrees, and decadent deserts to choose from, how would I settle on one dish? I owe it to my taste buds to experience each and every flavorful bite Forage has to offer. Let the drooling commence!
Bavarian pretzels, blue mussels, and crisp vegan cauliflower. I took delight in sampling all the tasty finger foods. In my opinion, what takes the cake is the crisp cauliflower; tender on the inside, crispy on the outside, and packed full of flavor. These vegan nuggets are essential when dining here. A crunchy guilt-free treat!
For my plant-based foodies, the vegetarian options don't stop there! Try the mushroom pappardelle, an authentic italian dish that is simple, flavorful, and cooked with lots of fresh vegetables and herbs. Made with foraged and cultivated mushrooms, locatelli, mushroom nage, and scallions, mixed in beautiful ribbony pasta covered in a sauce so good, you'll want to slurp it up. This vegetarian plate is exquisite and deserves 5 stars!
If you really want to wow your taste buds, do yourself a favor and order the tacos. Coming in at just $3.00 each, these gourmet grilled amish chicken tacos topped with chili crema, pico de gallo, cotija cheese, and cilantro, are a crowd-pleasing combination. You might be thinking about ordering seconds but I encourage you to save some room for dessert.
To top off your awesome experience, if you have a major sweet tooth, you'll want to check out their next-level sweets. Impress your palette with their melt-in-your-mouth creme brûlée, or indulge in my personal favorite, the creamy s'mores dessert! Layers of graham crumbs and belgian chocolate, beautifully topped with torched golden brown marshmallows. It is sure to be the highlight of your meal! Next time you are in Lakewood, swing by Forage and be sure to let me know how good your experience was!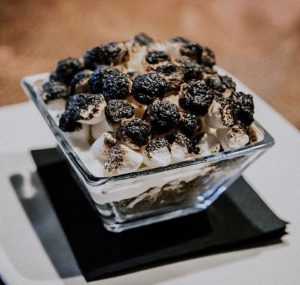 Photo Credit: S'mores Photograph Courtesy of Nicole Steffen @eatlocalohio https://www.instagram.com/eatlocalohio/?hl=en